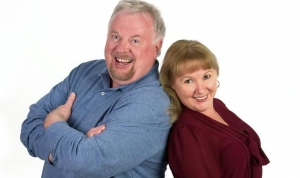 "John and Tammy In The Morning" has been a North Florida – South Georgia favorite since 1989. Safe for the whole family to listen to! Live and local show content including WCTV Meteorologist Mike McCall's weather and news every 30 minutes.
John and Tammy were teamed up in 1989. No, they're not married. However, throughout the past 20+ years they've become much like an old married couple (without the sex), entertaining yet another generation of listeners during their famous "live and local" family friendly morning show!
Tammy Webb
Tammy started her radio career in 1981 not far up the road in Bainbridge, Georgia with her brother Jerry Landrum.  She worked in Camilla and Donalsonville, Georgia before teaming up with John Dawson in 1989.  Tammy moved to Tallahassee in 1993 where she teamed up with Jim Avery for a new station called the Breeze.  When Jim left the station, Tammy called John and the John & Tammy morning show was together again.  Tammy LOVES her Pomeranians (Belle and Bandit), the white sandy beaches of St. George Island and of course FSU Football games with season seats!
John Dawson

John Dawson started in Radio at age 16. He worked his way from Alpena, Michigan; Atlanta, Georgia; Norfolk, Virginia; Albany, Georgia; to Tallahassee, Florida.
HOMETOWN: Bloomfield Hills and Oscoda Michigan
BIRTHDAY: January 16
FAVORITE FOOD: Pizza! Oh, and Taco's! Burgers too. Chinese, Hot Pockets, 3 Musketeers, Hostess Cupcakes, White-castle,
DQ, Guthries, Subway, Dominos, KFC, Pizza Hut, Dog-et-al, Chick-Fil-a, Lindy's, Five Guys, Taco Bell, Hardees, Sonic, Firehouse Subs, Chilis, Jordans eatery, McDonalds, Burger King, Huddle House, Bella Bella, Arby's, 101, Harry's, Cabos, Capn' D's, Front Porch, Papa Johns, Jimmy Johns, Voodoo Dogs, Momos Pizza, Teds, Kool Beanz, Piggys BBQ, Red Elephant pizza, Boston Market, Osaka, El Jalisco, Waffle House, Mellow Mushroom, Carrabba's, Newks, Whataburger, Wendy's, Hungry Howies, Melting pot, Panera, Tomato land, Gaines st pies, Lenny's, Marie Livingston, Riverside Café, The Varsity, Zaxby's, Moes…
get the idea?
FAVORITE COLOR: Aqua
FAVORITE MOVIE: Wedding Crashers
FAVORITE SAYING/QUOTE: save your money.
HOW DID YOU GET INTO RADIO/HOW LONG HAVE YOU BEEN WORKING IN RADIO: My dad worked for ABC-TV so I've been around Radio and TV since birth. After my dad passed away I decided to follow his footsteps. At 16 I began working part time at WHSB Alpena Michigan. That was 36 years ago!
OTHER: I love to collect old "pop-culture" stuff from the 50s and 60s including old Chevy truck.